SYDONI SKINCARE AND BEAUTY

A Journey of Real People, Real Beauty
PROFESSIONAL MAKEUP BRUSHES

Extremely Soft and Expertly Crafted by Industry Professionals
PRODUCT SPOTLIGHT
HYDRA MATTE SOFT MATTE LIQUID FOUNDATION with STUDIO COVER SOFT MATTE LIQUID CONCEALER
The ultimate duo for achieving a perfect complexion. With long-lasting sweat and transfer-proof properties, buildable coverage and flawless soft matte finish, you will reach for this duo every day!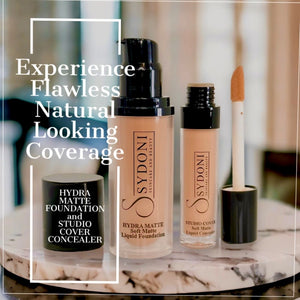 EXPLORE BEST SELLING BEAUTY BUNDLES to GIFT YOURSELF OR SOMEONE ELSE
SAY GOODBYE TO DEHYDRATION
Enhance your skincare routine with the transformative effects of Aqua Bomb. Experience the revitalizing power of 100% natural Botanical Hyaluronic Acid, Plant Stem Cells, Shea Butter and Aloe working harmoniously to deeply hydrate and nourish your skin, revealing a plump and radiant complexion. Aqua Bomb is suitable for all skin types and creates an optimal canvas for flawless makeup application.
GET HYDRATED
BRIGHTENING DAY PROTECTION WITH BROAD SPECTRUM SPF50. YEAR ROUND PROTECTION AGAINST SUN DAMAGE AND HYPERPIGMENTATION.
The power of Peptides, natural Licorice Extracts and White Lotus Flower together with broad spectrum SPF 50 protection make this lightweight daytime moisturizer truly unique. Helps diminish discoloration and works to prevent future hyperpigmentation. Calms and brightens the skin for renewed radiance and even skintone.
STAY PROTECTED YEAR ROUND