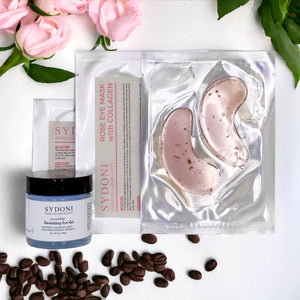 Rejuvenate your peepers with our FIRMING, REVITALIZING EYE TREATMENT BUNDLE! Our Cucumber & Caffeine Eye Gel, plus Rose Eye Masks, (3 pack) is sure to give your eye area the pick-me-up it's been craving. These guys will hydrate, firm, and plump while fighting off signs of dark circles. And with collagen, hyaluronic acid, glycerin, and rose petals teaming up synergistically, your eyes won't know what hit 'em! Time to rise and shine!
Rose Eye Mask with Collagen: How To Use: Can be used anytime day or evening to moisturize and refresh the eye area. Can be used daily
Cut open the pouch and gently remove the eye masks. Apply the eye masks along your eye contour and leave on for 15-20 minutes to allow the eye area to absorb the essence. Remove the eye masks by lifting the outer edge then gently massage in any remaining essence until completely absorbed.
Key Ingredients:
Collagen
Hyaluronic Acid
Glycerin
Rose Petals
Revitalizing Eye Gel: How to Use: 
AM/PM Tap a small amount around your eye area using your ring finger. 
The blue color in this eye gel is natural due to the eggplant in the formulation. You'll reach for this eye cream daily for its complex of botanical extracts including Aloe, Shea, Avocado, Cucumber, Coffee, Eggplant, Jojoba, Basil, Turmeric and Ginger.